ENCHANTING EMERALD
Mughal Garden
Imagine stepping into a garden adorned with vibrant blooms and lush botanicals, enveloped by the magnificence of Mughal architecture and the soothing sounds of nature.  Our Mughal Garden styled looks offer a timeless charm of yesteryears, where opulent antique hues harmonise with the verdant sparkle of beads and crystals.  An addition of pearls achieves that regal and enduring traditional elegance.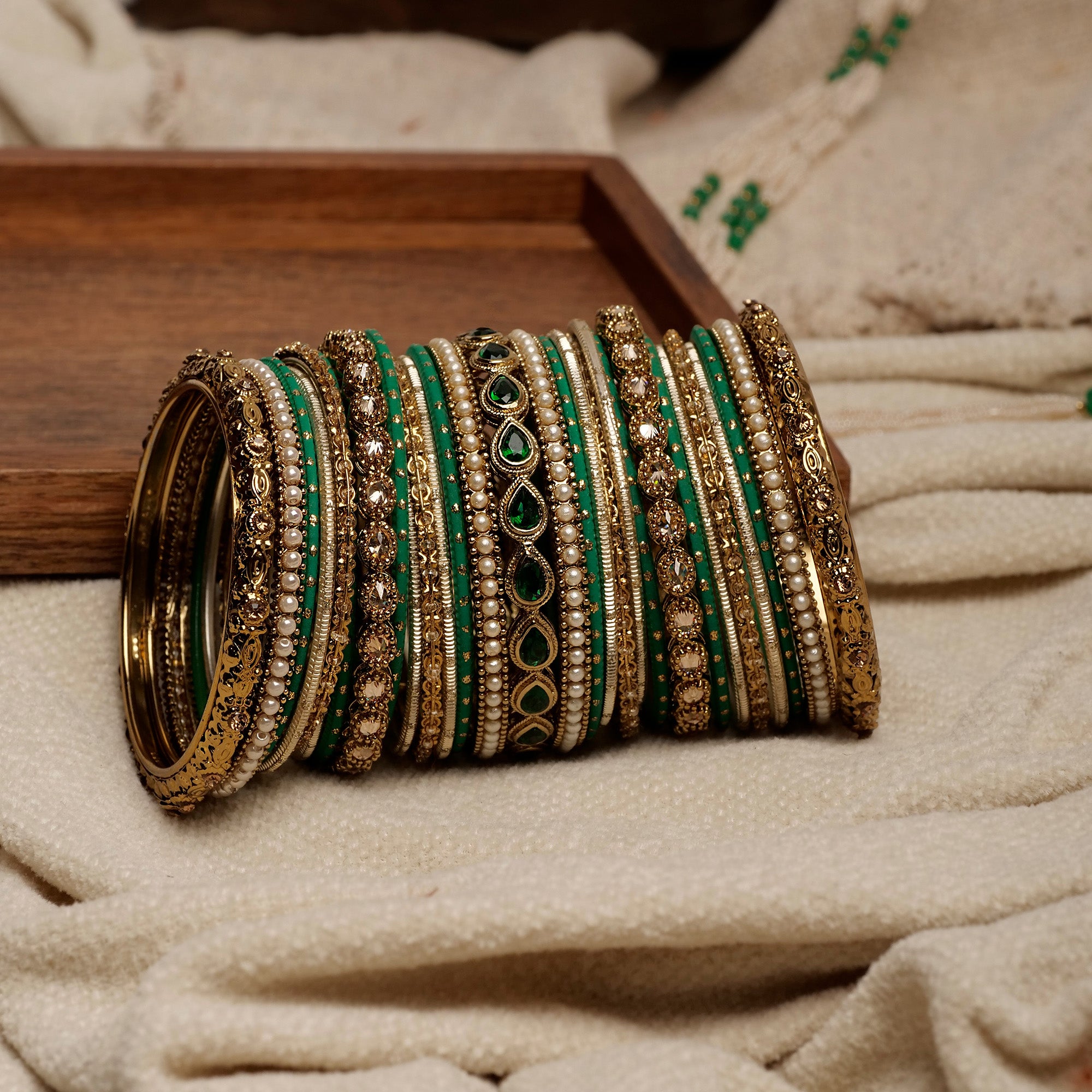 shop the look
How to style
Green is a versatile colour that can work wonders when paired with the right shades.  If you're considering an all-green look, our delicate pieces like hand chains, long bead necklaces and rings can enhance the green without overpowering your style.  
 For those feeling bold, green can create a striking contrast.  We turn to Torani, an Indian luxury brand whose saris encapsulates the beauty of Indian heritage design.  Draping a cream, zardoz embroidery sari and incorporating green accents can elevate your look and add a touch of regal elegance.  Our bridal bangle set, combined with a maang tikka and necklace set are lovely pieces which exude timeless elegance and charm.  
The choice of hairstyle and makeup should be tailored to the occasion and the jewels you plan to wear, so it's wise to keep your options flexible.  For a pre-wedding sangeet, consider voluminous hair pinned to one side.  A touch of colour on the eyes in your make up can ensure that both your earrings and necklaces take center stage.  If you're aiming for a bridal look, opt for a low bun up-do to let your headpieces and necklace set shine.  Your makeup should emphasize your eyes while maintaining a natural overall look.