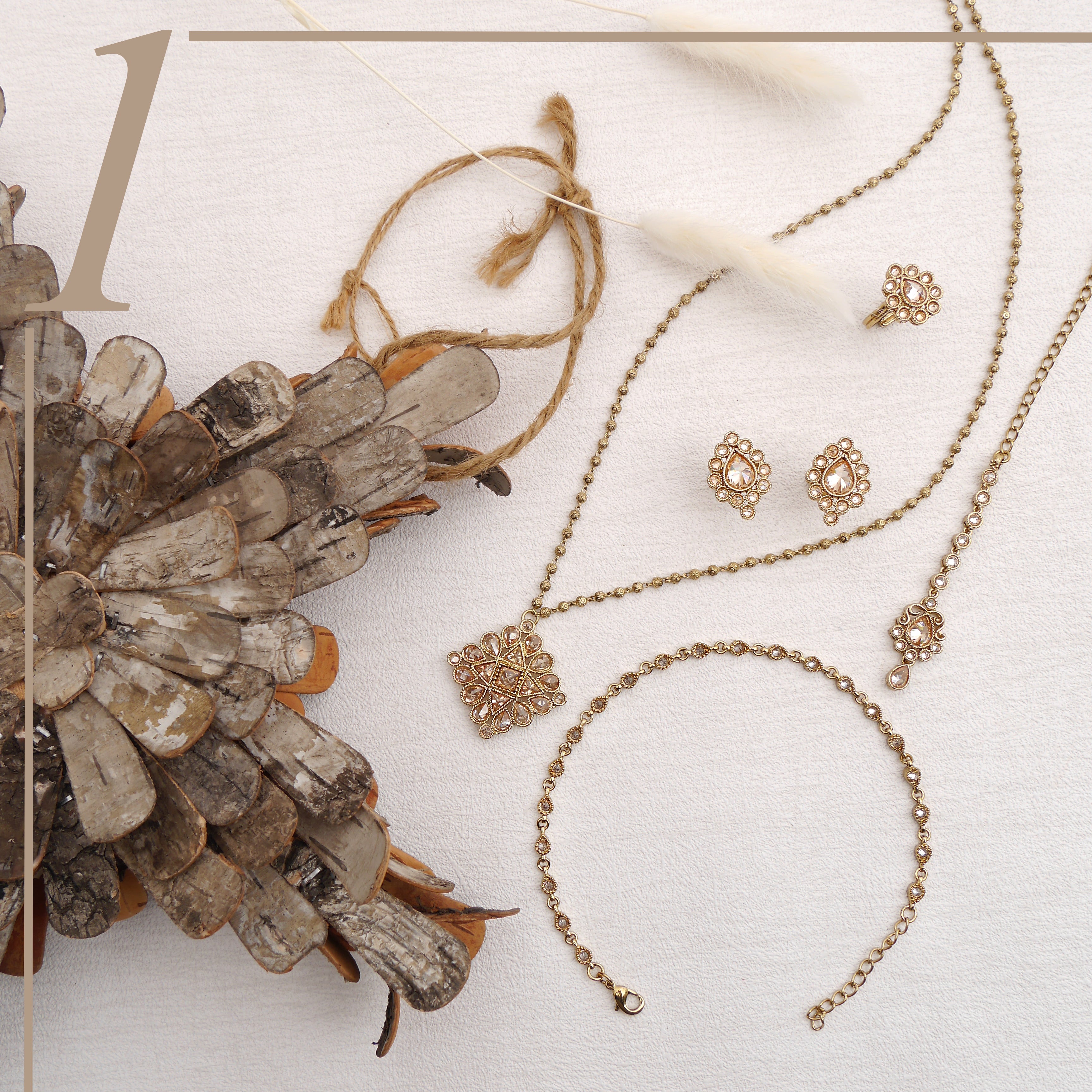 The Best 6 Gift Combinations
We know finding a gift can be challenging and making it personal to the recipient slightly more challenging. We're going to make life easy for you! Here's our take on 6 of the best gift combinations that just work. It couldn't be easier for you. Just pick a look (or two!) that you like - and begin adding to your basket.
1/ Smooth & Silky
Accessories for the minimalist. We've kept the selection in this group understated - just easy and wearable pieces that go a long way. She doesn't need to wear it all at once, the Autumn Leaf Studs on a day out, and the Antique Crystal Square Pendant for an intimate dinner party at home.
Other featured products include:
£16.50 Sara Crystal Anklet in Gold
2/ Mint Treasures
A refreshing selection of treats for any jewellery-lover. We've kept this array of jewellery gifts interesting with the Mint Round Pendant Set which is versatile to be worn altogether or individually. A set of bangles on one hand made up of the Mint Crystal and Matte Bangle Set. One things for sure - this jewellery gift combination is very personal and set to please.
 Other featured products include: 
£12 Ella Small Cluster 1" Hoops in Mint
£8 Crystal Beaded Bangles in Mint
 
3/ Rustic Weddings 
As the days get cooler - the colour tones get richer. Here's our gift pick: a bridal chocker set (£135 Mira Chocker Set in Ruby and Antique Gold) with the Festive Maroon and Antique Gold Bangle Set. This builds a significant suite of wedding jewellery which is significant as a gift for the big day!
 Other featured products include:
£15 Round Dot Thin Antique Bangles
4/ Pretty in Pink
This jewellery gift set has won your hearts. Baby pink has been the choice for many this season and it's easy to see why - it's such a CUTE COLOUR! Simplicity is the name of the game and the Pastel Pink Necklace Set sits at the top of our wish list. Complete with jhumka earrings and a tikka headpiece, which girl wouldn't want this! Couple it with a pair of the chain-style handpieces and you're onto a winner...
Other products featured include:
£9.40 No Drama Bangle Set in Baby Pink and Antique Gold
5/ The Leela Suite
For Autumn, we introduce the Leela suite of jewels. Perfectly combined with crystals and surrounded by tiny pearls - we suggest gifting at least three to four pieces to that someone special. Take your pick from the classic Leela Necklace in Emerald combined with a selection of earrings Leela Hoops in Emerald or the Leela Drop Studs. Which ever combination you choose, this jewellery gift combination will be a favourite this Christmas.
Other products featured include:
£10 Emerald Crystal Beaded Bangles
6/ Bindi Explosion
It's a well know fact that headpieces are adored - and it's no exception at Bees! Our selection of headpieces will have you browsing for hours. And now we're bringing you our selection of stick on bindis online for the very first time. In an explosion of colours - bindis represent the little things, the details. Grab a few packs, add the Alyssa Champange Tikka and it's the perfect gift combo this Christmas. 
We hope you found this blog post an interesting read and inspiring for your Christmas gift purchases. Enjoy browsing and happy shopping!
Love, Bees