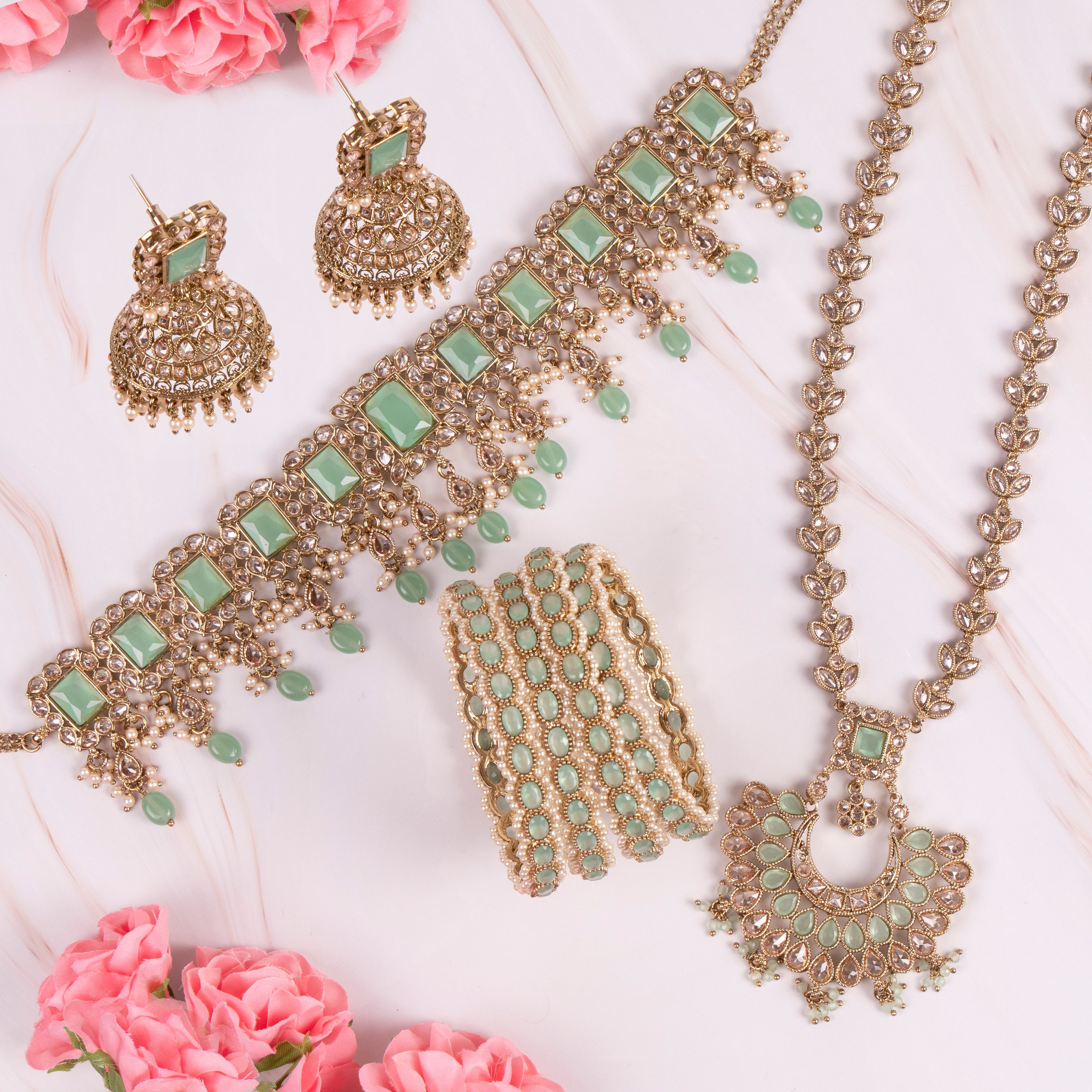 Spring 2022 Bridal Trends at Bees
Spring is upon us, and you know what that means...Wedding season is on it's way. Here at Bees we would like to share with you the top trends this season. Keeping our customers in the loop and looking stylish for the sunnier months. Here are our top 4 predicted trends for Spring, have a browse and be sure to purchase your favourites before they sell out!
1/ Mint and Pearl Bridal Combinations
Our shade of Mint has become very popular within the last few years, and we believe that it is because it is such a beautiful, uplifting shade which adds a pop of colour to any look. Within this Yashvi Bridal Necklace Set especially, alongside the  Mint Oval and Pearl Bangles and the Mihika Classic Long Necklace, the use of the mint and subtle use of pearls creates a beautifully eye-catching combination, perfect for a modern bride on a sunny wedding day. 
 2/ Traditional Hues
If you are more of a traditional bride, or simply a fan of our classic Maroon shade, then our Raindrop Maroon and Pearl Necklace Set will be a perfect match for you! Spring doesn't just mean pastels, and the Antique Gold and Pearl details really add a richness to this set. Also seen in this image is our Deepa Jhumar Headpiece  and our Sumi Bangles- great additions to enhance this look even further.
3/ Pearl Details
Pearl and Antique Gold are always a classic combination and customer favourite here at Bees, and having a subtle bridal set like this for your wedding day, contrasted with a colourful outfit or dress will be the perfect pairing. Bridal jewellery doesn't always need to be super bold and in your face, and we predict that this traditional yet stunning style will be a winner this season. Why don't you try out our Mahima Bridal Necklace Set for size? (Bangle set featured is a custom set from our ladies on the Shop Floor. Visit us on Green Street for your own customisation for your special day!)
4/ White Pearls and Pastel Shades
Our final predicted trend for Spring 2022 is our White Pearl and Antique Gold combination, as featured on our Chandbali Antique Bridal Necklace Set. This is quite an unusual colour palette here at Bee's, and so we feel that this style would be perfect for the modern bride, looking for something unique for their exciting day. This set would pair perfectly with a pastel wedding outfit, such as shades of baby pink, mint or lavender. Explore something different this season!
We hope you found this blog post an interesting read and inspiring for your Spring purchases. Our key trends to keep an eye out for this season are Pearls and Pastel Shades. 
Enjoy browsing and happy shopping!
Love, Bees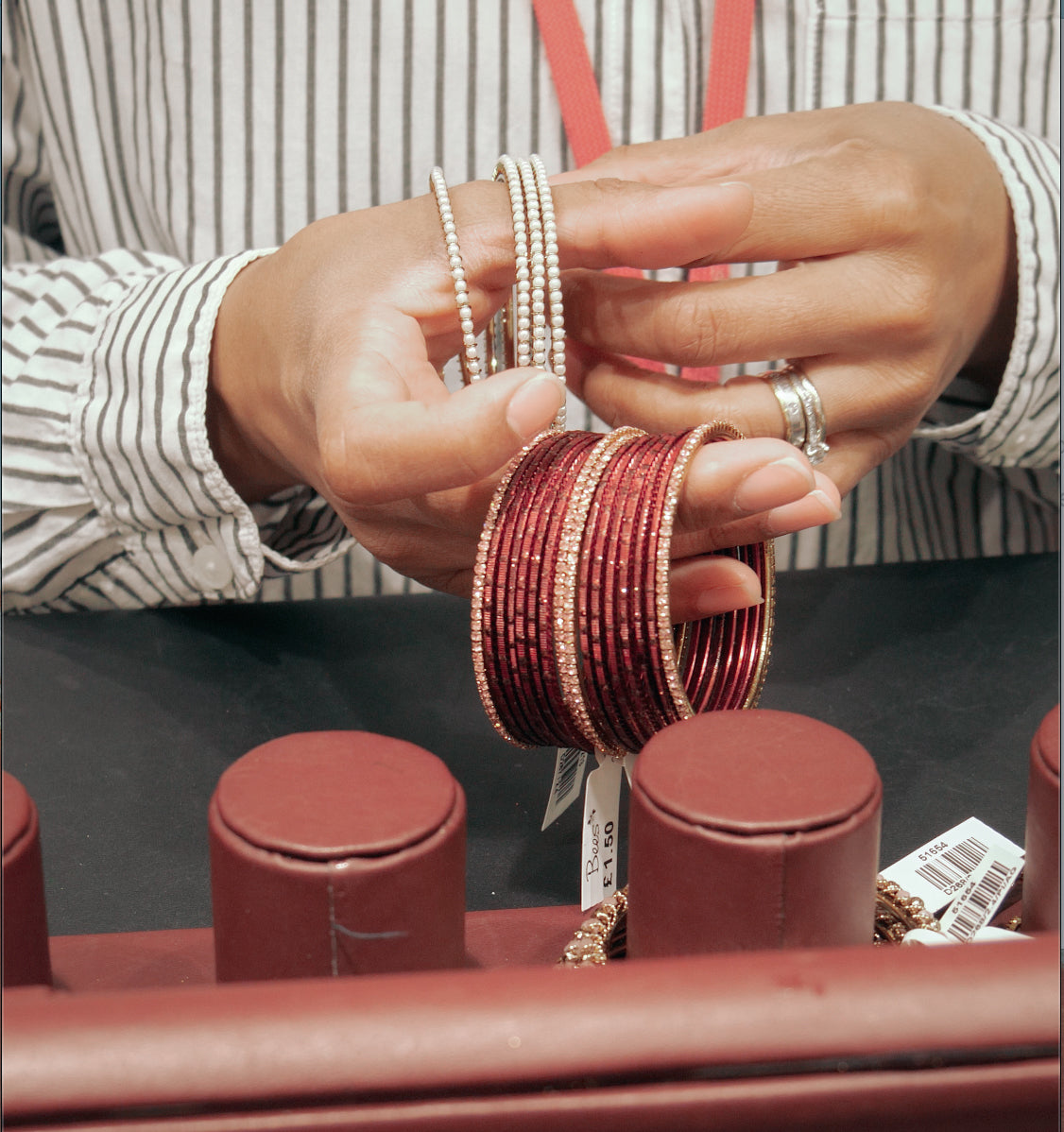 Welcome to Bees-Where Bangles are our speciality! Join us and watch one of our experienced bangle stylists create a stunning bangle set...https://www.instagram.com/reel/CbdPY6fAz8Q/?utm_medium=shar...
Read more